The port village of Diafani-A few words
(Διαφάνι)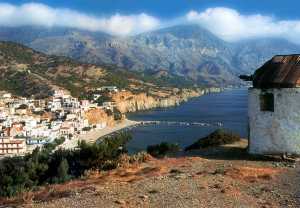 Diafani and its bay as seen from atop the 
winmill mountain range. Direction: North
The traces of Minoan settlement in the Cove of Cambi Bay, the ruins of Hellenistic public baths in the Loutro (bath) site and the nameplace Palaia (ancient) are signs that the Diafani site has been chosen for settlement since the ancient times. Because of the Arabic raids, the inhabitants of the region were also forced to abandon their homes and take refuge in the mountainous and hard-to-access nearby  Olymbos which maintained a castle around the central and highest part of the village .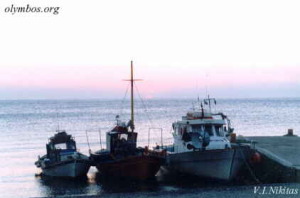 Diafani in the summer during sunrise: The fishing boats are 
getting ready to steam out to sea. Direction: East
In the end of the 19th century, when the sailing boats of the pirates were forced out by engine-powered battleships, the inhabitants of the castle in Olymbos took heart and moved down to settlements by the sea, just as the inhabitants of Korαki (village of Aperi) moved down to Pigαdia (officially recently renamed "Kαrpathos" and capital city of the island) during the same era. The reason for moving to Diafαni is certainly not the fact that there was an ancient settlement there. The main reason was that the bay would serve the needs of the people who had to go to Saria to cultivate their lands or establish trade with the surrounding islands. The bay is the least exposed to wind and high waves and the closest one to both, Olymbos and Saria.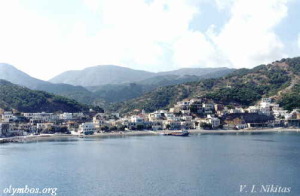 Diafani and its bay as seen from a boat during a calm autumn day. This is 
unprecedented peace and serenity. Direction: West.
Diafani has experienced a dramatic development especially since after World War II. You can locate Diafani on the map on the northeast coast of Karpathos. Notice the bay on the picture above.
Excerpts and material for this page have been obtained from the book "Olimpos and Diafani in Karpathos" published by the Community of Olymbos. We'll make an effort to present and promote that, as well as other books and publications about Olymbos, Diafani, and Karpathos in the future.