About Avlona-the Heartland of the region
(Αυλώνα)
---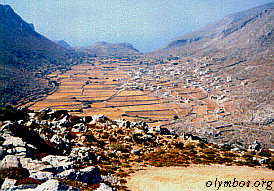 Photo: Avlona and its fertile plains as seen from the south
The rural and agricultural village of Avlona is situated north of Olymbos between Mt. Oros (photo-left side) and Mt. Steoe (-oe as in boy). It is built on the east ascent of the big and fertile valley created by those two mountains. Please take a look at the map to locate the village of Avlona.
Avlona has been the center of rural life of the region for centuries. We can still see about 300 farmhouses, (called "stavlos") characteristic of the every agricultural type of a community. Each of the farmhouses has its own facilities and accomodations for facilitating the life of the people and the processing and handling all aspects of agricultural life. The stavlos of "Avlona" is a complex which serves the needs of its habitants/users. All the necessary work, such as threshing, winnowing, and crop, seed, and straw storage can be done within the same establishment. It also serves as a stable for the resting and protection of the family domestic animals such as horses, cows, donkeys, and/or pigs.
The main products of Avlona are wheat and barley. Upon completion of the neseccary processing, cleaning, and storage, those grains are then taken to the Olymbos windmills where they are ground and turned into flour. Of course, not all grains are ground at the same time but a consume-as-needed approach is rather followed, so that supplies last throughout the year.
In older times, and when agriculture and cattle-breeding in Olymbos thrived, almost all of the inhabitants of Olymbos and Diafani moved to Avlona for the autumn and summer months to cultivate their fields and collect their crops, respectively. Those times, the whole valley throbbed with life. Avlona is credited with supplying the necessary grains to feed the whole island of Karpathos during the occupation of World War II, enabling the survival of its population. When people in most regions of Europe were starving, Karpathos relied on mother land, and as expected, she took good care of her children when they needed it.
Now, it's our turn to protect Avlona and its environment. One-by-one, permanent Avlona residents pass away or leave, and that will eventually result in the deserting of this beautiful and so productive place. The Community of Olymbos-Diafani must take steps to provide for the economic development of Avlona so that it is worth living in, and visiting it.